Campus Ambassador's father donates stem cells to man battling lymphoma
Terry and his family were having a special Christmas dinner at Disneyland when his daughter Karissa, a Gift of Life Campus Ambassador at University of Illinois – Chicago, got a text that a person she had swabbed on September 19, 2017 was a match for a patient. She got incredibly excited because on that night she had swabbed family members and friends at the family's home. Who was it? Could it be her brother's friend who had turned 18 that month and was finally able to join the registry?
A phone call from Gift of Life the next morning solved the mystery – it was her dad, Terry, who was a match for a 45-year-old man battling non-Hodgkin's lymphoma. The need was urgent and the donor services representative wanted to know if he would he be able to donate stem cells within four weeks.
"I was in full bore; I never had a second thought," said Terry. At 54 years old he never expected to be called, having learned from Karissa that the donors called most often are those 35 and under. "It was so exciting. This is a rare moment in life when you can do something for another person in need."
Karissa was also tremendously excited. "My dad being my first match that resulted in a transplant was so special," she said. "I knew he would donate, no questions asked, because that's just the kind of guy he is. He knew how much it meant not only to me, but especially to the person whose life he was about to save."
---
"Donating could not be easier ... [it] was not scary and does not hurt." —Terry
---
While Gift of Life worked to set up Terry's medical examination and day of donation, he traded several work shifts and arranged some time off. Since Terry was donating peripheral blood stem cells (PBSC) he received Neupogen™ to stimulate his bone marrow to produce extra stem cells and mobilize them into the blood stream. Donors receive one injection each day for the four days before donating, then the fifth dose is given right before the collection.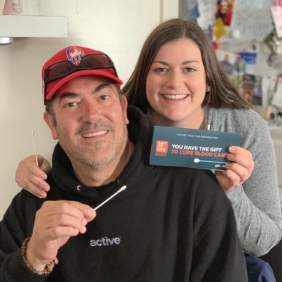 After being connected to the apheresis machine, Terry fell asleep, only to be awakened by the nurse telling him he would be done in 20 minutes. While apheresis normally takes four to six hours to collect enough stem cells for the patient, Terry's cell count was so high that his collection only took three hours. "They told me I responded really well to the Neupogen, but it did make my bones ache for a few days" said Terry. "That only lasts a short time, though. Donating could not be easier."
The day after, Terry flew to Chicago to see Karissa pitch one of her final softball games as an award-winning NCAA college athlete.
Terry says that "donating was not scary and does not hurt, and Gift of Life took great care of me." He is looking forward to the possibility of meeting his recipient someday and is wishing him the best during his recovery.
Terry works at Disneyland, and in his free time he enjoys outdoor activities like baseball, golf and hiking.
Stay tuned! We're also going to profile Karissa soon!